View all posts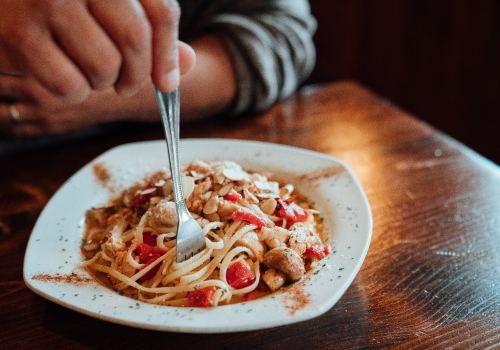 With Support from Pathfinder Bank, a Beloved Local Restaurant Stays Afloat during COVID-19
06/19/2020
Since 1954, Canale's Restaurant has graced Utica St in Oswego, New York, as an Italian eatery loved by locals and visitors alike. But when COVID-19 forced businesses everywhere to shut down, owner Nick Canale questioned whether his family-owned and -operated restaurant would survive.
Having trouble picturing Oswego – and his family's life – without Canale's Restaurant, Canale did what any other small business owner would and scoured his options for financial assistance. That's when he learned about applying to the Small Business Administration (SBA) Paycheck Protection Program through Pathfinder Bank, a Central New York-based community financial institution. Since the pandemic began, Pathfinder Bank has pulled out all the stops to help small business owners like Canale navigate these uncertain times.
"At Canale's Restaurant, we see ourselves as a part of our community and try to support everything we can. And it's nice to see that a local bank is doing the same thing we are," says Canale. "Pathfinder Bank supports everything in this town, and that's one reason we like to do business with them."
The Impact of COVID-19
Founded by Canale's grandparents, aunt, and uncle, Canale's Restaurant has been cooking up authentic Italian eats for the Oswego community for over 66 years. Its regionally famous menu items, from gnocchi to lasagna, are all based on the recipes of Canale's great grandmother, who emigrated to NY from Italy in the early 1900s.
"Our pasta with meatballs and spaghetti sauce is the item that everybody thinks of when they think of Canale's," says Canale. "A lot of people also talk about our Italian dressing as something they miss when they move out of town."
As the ripple effects of COVID-19 swept throughout the state, Canale's Restaurant came under the threat of no longer being able to carry on this rich family tradition. Canale was forced to shut down the dining room and made the painful decision to lay off his entire dining room staff, as well as some working in the kitchen.
"That's when things started to get scary," recalls Canale, "And for the safety of our employees and customers, we decided to close the restaurant completely."
How Pathfinder Bank Helped
Around the same time, Canale learned that the SBA Paycheck Protection Program could potentially save his business. After years of partnering with Pathfinder Bank, Canale was aware of its local decision-making and knew there was no better place to apply for the crucial loan.
"We were operating at 50% of our regular sales, but dealing with federal loans is something we've never done before. So we called Ron Tascarella and Beth Alfieri at Pathfinder Bank and said, 'Hey, can you help us?" says Canale. "They walked us through what we needed to do and monitored our applications. Eventually we were approved and received the loan, which has helped us to restart."
Thanks to a Paycheck Protection Program loan from Pathfinder Bank, Canale's Restaurant was able to give its previously laid-off employees a 25% raise upon returning to work, allowing them to comfortably come off unemployment. Canale has also been able to maintain a significantly higher payroll percentage than under normal circumstances due to the increased demand in takeout and delivery orders.
"It has allowed us to operate during this timeframe, give those people jobs, and keep the restaurant moving forward," says Canale. "I've heard horror stories that businesses dealing with bigger national or regional banks had trouble getting their loans approved in the first round of applications. We appreciate the fact that we're dealing with our friends and neighbors who took care of us and ensured we got our application through in the beginning."
To learn more about available COVID-19 resources for area businesses, contact a Pathfinder Bank branch today.