Our Value Checking is a safe, low-stress account that covers all your financial basics without the worry of overdraft fees.
Key Features
No Overdraft Fees
Surcharge-Free ATMs
Free Digital Banking
Features & Benefits
No overdraft protections or fees1
Available to individuals 16 and older2
Minimum opening balance of $25
$25 minimum balance required to waive $1.00 monthly service fee
Immediate access to your paycheck with direct deposit
Easy 24/7 access with our free Online Banking and Pathfinder Bank Mobile App

View account activity and balances, transfer money, pay bills through Online Bill Pay, send money with Zelle®, set up Account Alerts (text message or e-mail), sign up for Text Message Banking and more3

Free debit card with Allpoint network ATM access4

Enjoy free access to over 55,000 surcharge-free ATMs to withdraw money worldwide with Allpoint network ATMs found in places you already shop like Target, CVS, and Walgreens

Mobile Wallet with Google Pay™, Apple Pay® and Samsung Pay
Free card control app: With CardValet®, turn access to your debit card on or off, restrict card transactions, set up alerts and more right from your smartphone
Free e-statements5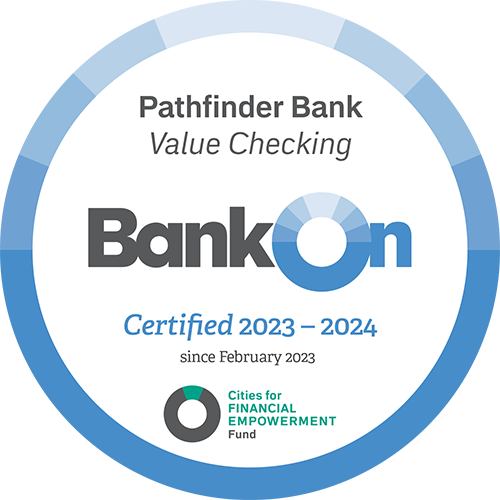 1Certain transactions are not subject to decline. If any such transaction causes a negative balance, no overdraft fee will apply. While this account prevents you from overdrawing in most cases, there may still be times when your account could have a negative balance. This could happen if a transaction is approved for one amount, but the actual charge is more than the amount of money in your account. For example, when you use your debit card for a meal and then add a tip. In this situation, the full payment may go through and result in a negative balance on your account – in this case, we will not charge you an overdraft fee and you will not be able to use your debit card or withdraw funds from your account until you transfer or deposit enough money to bring your available balance positive. For information on overdrafts, examples of how they can occur, and how to prevent them, click here.
2Customers between 16 and 18 years old must apply with a joint account holder, such as parent or legal guardian. To open an individual account online, you need to be 18 years of age or older. If approved for Value Checking with negative past credit or banking history, proof of charge-off payment is required in order to move to another Pathfinder account.
3There is no charge from Pathfinder Bank for mobile banking, mobile payments, or text banking. However, you should review your mobile device plan for any fees that your service provider may charge. Check your plan for details. Your carrier may limit access outside the U.S. To access Text Banking and Mobile Alerts, log in to Online Banking and click on the Administration tab. From there, select Mobile Banking and follow the onscreen instructions to enroll.
Zelle® and the Zelle® related marks are wholly owned by Early Warning Services, LLC and are used herein under license.
Apple Pay and the Apple logo are registered trademarks of Apple Inc. App Store is a service mark of Apple Inc. Google Pay, Google App Store and the Google Pay logo are trademarks of Google, LLC. Samsung Pay is a registered trademark of Samsung.
4If using any international, non-Allpoint or non-Pathfinder Bank ATM, a $2.00 ATM fee per withdrawal will apply as well as any possible fees charged by the third-party ATM holder.
5There is a $2.00 service fee to receive paper checking account statements. Refer to fee schedule.