View all posts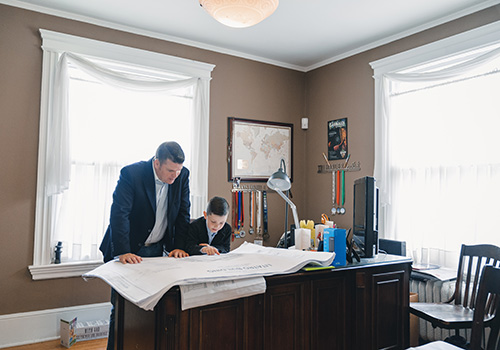 Thinking of Opening a New Location Consider This First
10/15/2019
By: Alison X. Ha
Thinking of Opening a New Location? Consider This First
Your business is growing – and fast. Whether you're thinking about opening an additional location in your current town or expanding into an entirely new market, this is undoubtedly an exciting time for you and your company. But with rapid growth comes a variety of risks that must be considered before making the move. Based on Pathfinder Bank's 160 years of experience, here are the key factors we urge all business owners to evaluate to enter this new stage of your company's lifecycle in the best financial situation possible.
Considering Your Target Customer
From increasing sales to enhancing your brand's presence, there are many reasons businesses expand. But what they all have in common is the mission to expose the company to the right target customer. That's one of the first things that must be considered when seeking a new location, as choosing the wrong place to expand could result in losses you did not originally foresee.
To mitigate this risk, you must do your research on the demographics of multiple potential locations. Where do your target customers live? Which place will meet your needs and serve your business the best? Can you achieve market acceptance? Is there truly a customer base you can grow and expand into? These are all questions that the experienced financial professionals at Pathfinder Bank can help you answer.
Anticipating Cash Flow Changes
During periods of growth, it's easy for businesses to assume that their increase in sales will provide enough capital to see them through the transition. But for some, this is unfortunately not the case. Between upfront expenses and your existing operating costs, investing in a new location means you'll be using more cash than you generate. Whether or not you are positioned to adequately handle the costs associated with growth must be accounted for before starting your new venture. We can help you through this process and determine whether a business loan may be the solution.
Preparing Your Staff
Another piece of rapid growth that may slide under your radar is how the expansion will affect your staff. Prior to growth, small businesses typically have employees who multitask across various departments, such as one person handling bookkeeping, human resources, and scheduling. But during periods of growth, job duties will increase, and your prior staffing model may no longer be sufficient.
Therefore, you must ask yourself if you have the necessary staff to support your growth. If you're doubling the size of your staff, for instance, you'll more than likely require more than one human resources employee. You may even find you need another accountant who offers a more diverse skill set. By recognizing what your new business demands will entail, you can ensure you have the proper team members in place as you develop a larger business and garner greater sales.
Treating It Like New
Last but certainly not least, we believe the best way to prepare to expand is to think of your new location as a new business – not just an addition to your current one. That way, you won't miss a beat when considering all of the financial aspects playing into your expansion. No matter where you are on the path to growing your business, Pathfinder Bank is there to support you every step of the way. For more information, contact us today.