Visa® Debit Card
Make your everyday purchases faster, easier, and safer with a Pathfinder Bank debit card. This complimentary Visa® debit card is widely accepted and works like a check. No more carrying cash or checks --purchases are deducted directly from your checking account. Most banks deem that good enough and call it a day. Thankfully, we're not most banks.
When you sign up for eRewards by Pathfinder Bank, you get rewarded when you shop! Sign up using your Pathfinder Bank Visa debit card and earn points with every qualified purchase…and best of all, its free!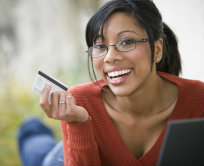 Summary

Free Visa® debit card accepted worldwide

Valuable rewards program*:

Earn 1 point for every $2 in signature-based purchases

Earn additional points at participating in-store and online retailers

Redeem points for millions of items

Funds deducted directly from checking account

No finance charges or fees

Easier and safer than cash or check

Also use for ATM withdrawals ATM Security

$0 Liability Protection on lost/stolen cards**

Activate your card, set your 4 digit PIN, or change your 4 digit PIN anytime using our automated phone system. Learn more.




* Register your card for eRewards by Pathfinder Bank today and begin earning points with every qualified purchase. Redeem your points for valuable items including travel, brand name merchandise, gift cards, and more!

**Limitations per Reg-E.