Home Mortgages
Our low rates and flexibility have been helping make home ownership dreams come true in Upstate New York since 1859. In that time, we've learned that we offer all the mortgage services the large national banks do...except the hassles.
We'll work hard to tailor a mortgage specific to you and your monthly budget. Come enjoy a stress-free experience with Pathfinder Bank.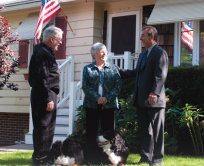 Summary

Competitive rates

Wide range of terms and options

Fixed rates and adjustable rate mortgages (ARMs)

Local decision-making

Attentive and responsive personal service

Communication at every step

Timely closing

Rate-lock guarantee

Pre-qualification available for better buying power

Fixed Rate vs. ARM

There are a wide range of terms and options we can use to customize your mortgage loans. A starting point to determine is choosing a fixed rate versus an adjustable rate mortgage (ARM).

Why choose a fixed rate?

Your interest rate will never increase

Stability and consistency

Predictable monthly payments

Option to pay "points," an upfront investment that reduces interest rate, and resulting monthly payment

Why Choose an ARM?

The initial interest rate is always lower with an ARM over a fixed rate mortgage. This is an obvious advantage. But many people wonder, "Why choose an ARM if the rate might keep increasing?" Good question. It's not for everyone, but an ARM could be perfect if:

You plan on selling the house in 5-10 years

You expect your salary and income to increase within a few years

All Pathfinder Bank ARMs have annual and lifetime limits on interest rate changes

First Home Club

As a member of the Federal Home Loan Bank (FHLB), Pathfinder Bank is able to provide a grant of up to $7,500 for homebuyers who meet certain income eligibility requirements. The First Home Club Savings Program is designed to assist homebuyers with the purchase of their first home. One of our Mortgage professionals will be able to assist you in determining if you qualify.




Here's how it works:




Upon qualification, a designated savings account will be set up where you will make monthly deposits of a predetermined amount. For every $1 you deposit, the Bank, through the FHLB, will grant an additional $4 up to the maximum $7,500.

Deposits into the designated savings account must be made for at least 10 months and no more than 24 months. These funds, along with the grant monies are to be used solely towards your closing costs or down payment. If any funds are withdrawn during or a payment is missed during this time, you may be disqualified from receiving the grant.

During the home buying process, you are required to attend a Homeownership Counseling Program (minimum 6 hour course). The classes will cover topics such as budgeting, understanding legal requirements, saving, and more.

Once you close on your home loan, you will make regular monthly loan payments to Pathfinder Bank. If you do not stay in your home for at least 5 years, you may be required to return all or a portion of the grant monies received.

For more information about the First Home Club with Pathfinder Bank, stop in, call, or click the "get started" button.