Money Smart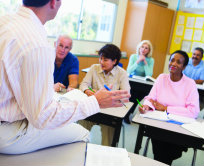 Money Smart Program
A six-week course entitled "Money Smart" is once again being offered through the combined resources and expertise of Pathfinder Bank and SUNY Oswego to cover a host of topics to help people better manage, plan and spend their hard-earned dollars.The curriculum will accompany the Money Smart Computer Based Adult Education Program offered through the FDIC.
Charge It Right
Using a credit card can be both convenient and necessary. Learn which cards are right for you, and which cards you may be eligible for now that the new Credit Card Accountability, Responsibility and Disclosure Act of 2009 has been implemented. Know the terms, and the rules, so that you can choose the best offer for you. We will review how the decision to extend credit is made and what you can do to establish credit for yourself. Your credit will not only affect your ability to get credit, but what you pay for that credit as well. What is the real cost of making minimum payments? This course will show you the cost and the benefits of making regular payments. Finally, this course will help you identify and avoid identity theft by protecting your credit or debit card and regularly reviewing your statement and credit reports. 1.5 Hours/Free
Checking Accounts & Debit Card Usage & Internet Banking/Bill Pay
This course will discuss the benefits of having a checking account, types of information needed to open a checking account, and the different kinds of checking accounts available. Attendees will learn how to keep a register, write out a check, and the different types of holds on a check. The benefits of having a debit card, debit card usage and ATM safety will also be covered. A Brief overview of online banking and what bill pay can do for you. 1.5 Hours/Free
Keeping Safe in an Electronic World
This course will discuss and present information on the following topics: online purchasing, online auctions, online banking, mobile banking, computer security baseline and online identity fundamentals and access controls. 1.5 Hours/Free
Setting Financial Goals
This course shows attendees how to manage their money by preparing a personal spending plan (budget). We will identify ways to control spending and properly match your income to your obligations and spending habits. This course is beneficial to all attendees, whether they will be relying on higher education financial aid, entering or have been in the workforce and establishing independence, or just working while still in school . A personal spending plan is the first step in taking control of your finances. Budgeting tools will be provided to help you manage your money and meet your goals. Last year almost half of American workers were living paycheck to paycheck. 1.5 Hours/Free
How to Pay for College
This presentation will focus on identifying and calculating college costs. Students will learn to identify costs associated with books, college fees, housing, and other types of costs not included with tuition. A review of the Free Application for Federal Student Aid (FAFSA) will be conducted. Loan repayment, scholarships and grants will also be discussed. What various loans are available and how to apply. 1.5 Hours/Free
Pay Yourself First
This course will be geared toward saving for retirement. Attendees will learn the different types of retirement options, as well as the impact of saving. A basic understanding and description of stocks, bonds and mutual funds will be presented. Along with touching on the value of an "emergency fund" to an individual's overall portfolio. 1.5 Hours/Free
Organizations who have utilized the Money Smart Program
Oswego Public Library

SUNY Oswego

SIFE (Students in Free Enterprise)

Cayuga Community College

Catholic Charities

Oswego County Opportunities

OCO Path

Alliance Church MOPS Group (mothers of pre-school)

CSEA Union

Sandy Creek High School – Spanish Club

Fulton Community Development

Habitat for Humanity

Oswego High School

Mexico High School – German Club
For more information regarding Money Smart.
Please contact the Pathfinder Bank at (315) 343-0057 ext. 8014
All programs will be taught by experts in their respective fields from Pathfinder Bank, the Oswego Public Library and SUNY Oswego.
The program is free to the public but class sizes are limited so make sure you call and register for a session soon.
If you'd like to take the classes online at your own pace in either Spanish or English please click the link below.
http://www.fdic.gov/consumers/consumer/moneysmart/mscbi/mscbi.html