Remote Deposit Capture
Save countless business hours and reduce errors with eDeposit by Pathfinder Bank, the remote deposit system from Pathfinder Bank. Simply scan checks from your desk; embedded software will automatically record and balance the transaction.
It's like having a teller right in your office. You might say the "e" stands for efficient, or perhaps "exactly what I needed." Sign up for eDeposit by Pathfinder Bank today and you'll discover exactly what we mean.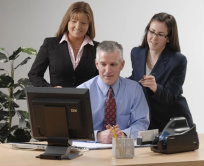 Summary

Reduce trips to the bank

Fewer errors in accounting

Enhanced security and fraud protection

Consolidate deposits from multiple locations

Make deposits even when bank is closed*

Payments are processed faster

Automated transaction validation and balancing

Improved research capabilities

Transaction log includes check images and data