eRewards by Pathfinder Bank Debit Card
When is a debit card more than a debit card? When it's an eRewards by Pathfinder Bank Debit Card, earning points with every qualified purchase. Redeem the points for valuable rewards, including travel, brand name merchandise, gift cards, and more.
This free debit card beats out most credit card programs...and there's no interest to counter the huge rewards you earn. Why settle for less, when you can get more from Pathfinder Bank?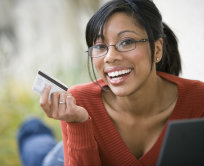 Summary

Free Visa® debit card accepted worldwide

Valuable rewards program:

Earn 1 point for every $2 in signature-based purchases

Earn additional points at participating in-store and online retailers

Redeem points for millions of items

Funds deducted directly from checking account

No finance charges or fees

Easier and safer than cash or check

Also use for ATM withdrawals ATM Security

Simply pay for purchases you'll already make with your debit card to cash in on your rewards. Register your card today at UChooseRewards.com.