Company Expense Credit Card
Give your municipality more purchasing power! Boost the cash flow of your municipality with a competitive rate* on a Platinum Visa® Business Credit Card.
Easily manage your credit card account and make payments with online account management. That's why it pays to go with Visa.®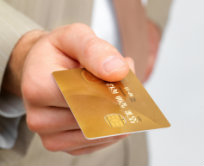 Summary

Boost the purchasing power of your business

Free, 24/7 online account management

Competitive rates*

Enjoy these extras:

Travel Accident Insurance

Auto Rental Collision Damage Waiver

Add additional card users at no extra charge

Local service from people you know

Accepted worldwide

Lost or stolen card services

Secure

No annual fee

Pay in full account

Pathfinder Commercial Bank is a wholly owned banking subsidiary of Pathfinder Bank. It is a New York State chartered limited purpose commercial bank and is authorized to accept deposits of municipalities, school districts, and special units of government throughout New York State.