Commercial Credit Cards
In addition to convenience of worldwide Visa® purchasing power, our commercial credit cards provide simplicity in expense tracking. Itemized reports provide an easy-to-read monthly management tool.
See your local bank representative to apply for the card.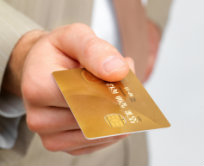 Summary

Online account access provides the quickest and easiest way to:

No annual fee

Low, competitive rates

Worldwide acceptance

Itemized monthly reports

Simplifies expense tracking

Easy record of tax-deductible expenses

Travel accident insurance

Existing cardholders log into your account here.